Policy Framework
Building An Equitable Future Together
BUILDING AN EQUITABLE FUTURE TOGETHER 
In 2020, the Michigan Philanthropy COVID-19 Working Group, an ad hoc committee of 25 foundation leaders and partners was created to focus on creating clear paths grounded in equity for our CMF community to embark on together.
The Working Group developed the Building an Equitable Future Together  policy framework, centered in equity and anchored by three of CMF's policy domains: public health, education and economic prosperity.
"This is perhaps the most critical and impactful work we will ever lead as a field because we have the opportunity now – today – to drive transformational change."
- September 2020, Working Group Co-Chairs Paul Hillegonds, CEO, Michigan Health Endowment Fund; La June Montgomery Tabron, President and CEO, W.K. Kellogg Foundation; and Ridgway White, President and CEO, Charles Stewart Mott Foundation
Adopted by the Government Relations Public Policy Committee (GRPPC) in 2021, Building an Equitable Future Together is a member-informed policy framework that serves as a strategic platform to advance equitable policymaking focused on the issues facing Michigan residents that have been exacerbated by the pandemic.
Image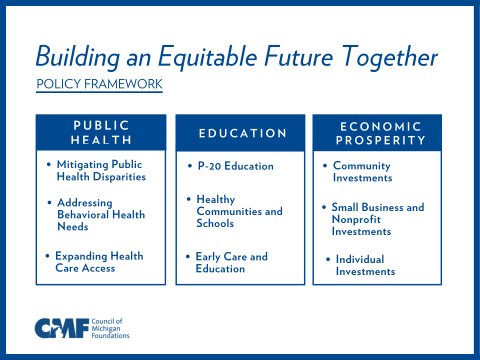 The GRPPC provided strategic guidance to staff to prioritize seven timely policy priorities. These policy priorities are outlined in the expander below. 
Policy Priorities

Ensure equitable access to COVID-19 vaccines so that vulnerable populations and impacted communities are prioritized.

Prioritize state-supported behavioral health services. This includes mental health supports for parents and adult caregivers who continue to feel the long-term impacts of the pandemic and social-emotional supports for children.

Address the digital divide.

Preserve and grow childcare slots and subsidies for families with low incomes. This includes flexibilities to ensure innovative use of federal funds to grow quality childcare slots, increase provider reimbursement rates, and emphasize the importance of licensed home programs.

Provide high-quality after-school and extended learning time options for families beyond the school day—including wraparound services that target under-resourced populations with limited options.

Support frontline workers (including community health workers, childcare providers, teachers, etc.).

Help stabilize small businesses and nonprofits (including MWBEs and nonprofits led by people of color).